Calasetta, Sardinia: Discover this Enchanting Town
If you're seeking a picturesque escape in Sardinia, take a peek at the charming town of Calasetta, also known as Cala di Seta. Nestled on the beautiful Sant'Antioco island, in the Sulcis Archipelago of Southwestern Sardinia, Calasetta is a hidden gem waiting to be explored. This article is your comprehensive guide to the best beaches, attractions, and activities that will make your trip to Calasetta unforgettable.
A Brief History of Calasetta
Calasetta's story is as captivating as its scenery. Founded in 1769 by 38 families of coral fishermen from the Tunisian island of Tabarka, who had previously settled there from Genoa, the town has a rich cultural heritage. Over time, tuna fishermen and settlers from Piedmont joined, bringing their own contributions to the town's unique identity.
Today, Calasetta's residents speak Tabarkian, an intriguing Ligurian/Genoese dialect distinct from Sardinian, the minority language spoken on the main island. This linguistic diversity adds to the town's allure and reflects its fascinating past.
Unveiling the Best Beaches of Calasetta
Calasetta boasts an array of stunning beaches that cater to all preferences, from family-friendly spots to windsurfing havens. Here are some of the top beaches to visit:
1. Sottotorre Beach
Easily accessible from the village, Sottotorre Beach charms visitors with its fine white sand and crystal-clear shallow waters, ideal for families with children. The beach offers convenient amenities such as kiosks and beach equipment rentals.
2. Spiaggia Grande
Measuring approximately one kilometer, Spiaggia Grande is one of Calasetta's largest beaches. Windsurfers and kitesurfing enthusiasts will find it especially appealing due to its exposure to the winds. For calmer days, it offers a peaceful retreat and stunning views.
3. Cala Lunga
Located on a scenic fjord, Cala Lunga provides a sheltered oasis with beautiful rock formations and shallow waters. It's a perfect spot for a serene escape and relaxation.
4. La Salina
Featuring fine pale grey sand and transparent shallow waters, La Salina is an excellent choice for beachgoers of all ages. The beach is well-equipped with sunbeds, umbrellas, and a kiosk for refreshments.
5. Cala Tuffi
Nestled close to Cala Lunga, Cala Tuffi beckons adventurers with its natural pool. Accessible by foot or boat, this secluded spot promises a magical experience.
6. Cala Sapone
A short drive from Calasetta, Cala Sapone showcases a mix of thick-grain sand, small pebbles, and corals. Don't miss the chance to walk or swim to the nearby scenic cove of Cala della Signora.
Beyond the Beach: Top Attractions in Calasetta
When you're ready to explore beyond the shoreline, Calasetta has a wealth of attractions and activities to captivate your senses:
1. Cantina di Calasetta (Calasetta Winery)
Indulge in a wine-tasting journey at the renowned Cantina di Calasetta, one of Sardinia's oldest wineries. Surrounded by approximately 200 hectares of vineyards, the winery primarily produces Carignano wine, but you'll also find Vermentino and Moscato varieties. Guided tours and tastings offer a memorable experience for wine enthusiasts.
2. Calasetta Museum of Contemporary Art (MACC)
Delve into the world of contemporary art at MACC, housed in a former slaughterhouse. The museum showcases pieces from the second half of the 20th century, with a focus on abstract and constructivist art from the 1960s and 1970s. A permanent exhibit dedicated to local artist Ermanno Leinardi adds a touch of authenticity.
3. Mangiabarche Lighthouse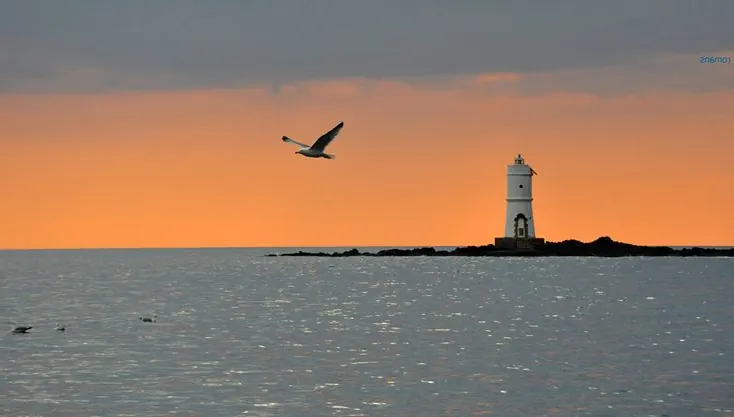 Admire the breathtaking views from the area surrounding the Mangiabarche Lighthouse. In addition to the lighthouse, you'll find a tiny beach ideal for snorkeling and diving during the summer. On windy days, the waves crashing on the rocks create a dramatic scene, making it a memorable photo location.
4. Nido dei Passeri
Venture 5 km from Calasetta to discover the massive rocks emerging from the water, known as "Nido dei Passeri" or Bird's Nest. Embrace the picturesque setting, and be sure to visit at sunset for an enchanting view.
5. Torre Sabauda
Immerse yourself in history at Torre Sabauda, built in the mid-18th century to protect local tuna fisheries and defend the area from pirates. Climb the tower's staircase to reach the terrace and take in the panoramic views. The ground level houses a well-curated Museum of Archaeology, adding depth to your exploration.
6. Domu de Janas di Tupei
Unearth the ancient past of Sant'Antioco island by visiting the Domu de Janas di Tupei, one of the many Domus de Janas scattered throughout Sardinia. These fairy or witches' houses, as the legend goes, were burial grounds carved out of rocks. Complement your visit with a trip to the Archaeological Museum Ferruccio Barreca in Sant'Antioco town.
7. Nearby Sant'Antioco
A short drive from Calasetta lies Sant'Antioco, the main town on the island. Wander through its colorful alleys, indulge in delicious seafood at waterfront restaurants, and explore the small yet captivating Archaeological Museum. Be sure to witness the enchanting sunset over the fishing boats in the lagoon.
8. Day Trip to Carloforte
Embark on a ferry ride to nearby San Pietro island and the charming town of Carloforte. This colorful town offers a wealth of beautiful beaches, viewpoints, historical landmarks, and opportunities for diving and snorkeling. If you visit in early June, don't miss the Girotonno, Carloforte's famous tuna festival.
Practical Information to Plan Your Trip
Now that you're excited to visit Calasetta, here are some practical tips for your journey:
How to Get to Calasetta
Calasetta is located 85 km from Cagliari, Sardinia's capital, on Sant'Antioco island, connected to mainland Sardinia by an isthmus. You can reach Calasetta by car or public transportation:
By Car
Follow SS130 to Carbonia, then take SS126 to reach Calasetta, with the overall trip taking around 1.5 hours.
By Public Transport
Though longer, taking public transport is doable. Start with a train journey from Cagliari train station to Carbonia, then take Bus 802 to Calasetta, with the overall journey taking approximately 3 hours.
Guided Tours of Calasetta
If you're short on time or prefer organized tours, consider joining a guided tour that covers Calasetta, Sant'Antioco, and Carloforte. Various tours provide comprehensive experiences, allowing you to make the most of your time on the island.
Accommodation Options in Calasetta
While Calasetta offers limited lodging options due to its size, consider staying in nearby Sant'Antioco for more choices. Nevertheless, here are some excellent places to stay in Calasetta:
Hotel Cala di Seta: Located in the heart of Calasetta, this hotel offers comfortable and spotless rooms, pet-friendly accommodation, and breakfast included in the room rate.
MuMA Hostel: Situated on the waterfront of Sant'Antioco, this budget-friendly hostel features spacious and comfortable rooms, an art gallery, pet-friendly policies, and breakfast included in the rate.
Dining and Drinking in Calasetta
Savor the local specialty of "gallettine," a crispy bread perfect for salads, soups, or snacking. When it comes to dining and drinking, you'll find delightful options in Calasetta:
OASI BLU: Located slightly outside of town, OASI BLU offers traditional local fare along with vegan and vegetarian choices, making it ideal for a diverse dining experience.
LA PERLA: Positioned on the waterfront, LA PERLA delights with its delectable seafood and fish dishes. For non-seafood options, the restaurant caters to meat lovers and vegetarians alike.
DA PASQUALINO: This pizzeria trattoria serves tasty, no-frills dishes at reasonable prices with quick service, perfect for a satisfying meal.
Conclusion
With its enchanting beaches, captivating history, and delightful attractions, Calasetta offers an idyllic escape in Sardinia. Explore the town's vibrant culture, indulge in wine-tasting adventures, and soak in the breathtaking scenery. Whether you seek adrenaline-pumping activities or serene relaxation, Calasetta promises an unforgettable experience. Plan your trip to this hidden gem and embark on a journey that will leave lasting memories of Sardinia's beauty and charm.