Nudist Beaches in Sardinia: Baring it All Under the Mediterranean Sun
Sardinia, an island renowned for its aquamarine waters and spectacular landscapes, is a Mediterranean gem that is full of surprises. Among these, a notable aspect of its coastal culture is the island's array of nudist beaches. Not only are these locations imbued with an incredible sense of tranquility, they also represent the ultimate expression of freedom, attracting a unique blend of locals and tourists seeking a genuine and liberating experience.
The Nudist Beach Revolution: Is Naturism legal in Sardinia?
In the past decade, there's been a naturist revival in Sardinia, reflective of a broader global trend.
Regional law No. 16, passed in July 2017, encourages the establishment of designated areas for naturist tourism, even within protected natural zones. This progressive approach reflects the changing mindset of the Sardinian people, and we can anticipate more naturist beaches to emerge in the future. Arbus and Quartu Sant'Elena are already contemplating the creation of nudist beaches, indicating a positive shift in attitudes towards naturism.
Despite being rooted in traditional values, the island has grown increasingly accepting of naturism. The Guardian, in a 2022 article, highlighted the normalization of nudity on beaches, suggesting a new chapter in Sardinia's social evolution. Today, naturists from all over the world are drawn to Sardinia's nudist beaches, lured by the promise of a unique blend of serenity, authenticity, and the sheer beauty of the Sardinian landscape.
Porto Ferro – Number One Nudist Beach in Sardinia
Among the most popular nudist beaches is the iconic Porto Ferro, located in the North West region of Sardinia. A favourite among nudist beach enthusiasts, Porto Ferro is recognized for its three kilometers of golden sand, its tranquil ambiance, and the stunning view of its sunset.
Porto Ferro's allure lies in its serenity and natural beauty. For over three decades, a secluded portion of the beach, nestled between the iconic Torre Bianca and Torre Negra, has been frequented by nudists seeking a tranquil escape.
The "Italian Naturist Guide" identified Porto Ferro as an ideal destination for naturist tourism back in 2013, and the esteemed experts at Skyscanner lauded it as one of Europe's top naturist beaches.
Read my article on the 10 best beaches in Sardinia

With the issuance of ordinance No. 79 by the Municipality of Sassari on the 26th of July 2018, the dream of making Porto Ferro an official nude beach was realized. This decree established the area between Torre Bianca and Torre Nera as a designated space for naturist tourism from August 1st to October 31st, 2018. Sign boards now guide visitors to this blissful stretch of Porto Ferro, where they can embrace the freedom of naturism in harmony with nature.
Southwards from Porto Ferro, other notable nudist beaches lie in waiting. If you're up for a bit of exploration, heading down the island's eastern coastline will take you to Spiaggia di Piscinas, a popular nudist spot known for its spectacular sand dunes. Visitors to Spiaggia di Piscinas often talk about the thrill of the warm Mediterranean breeze on their skin as they traverse the beach's undulating sand formations.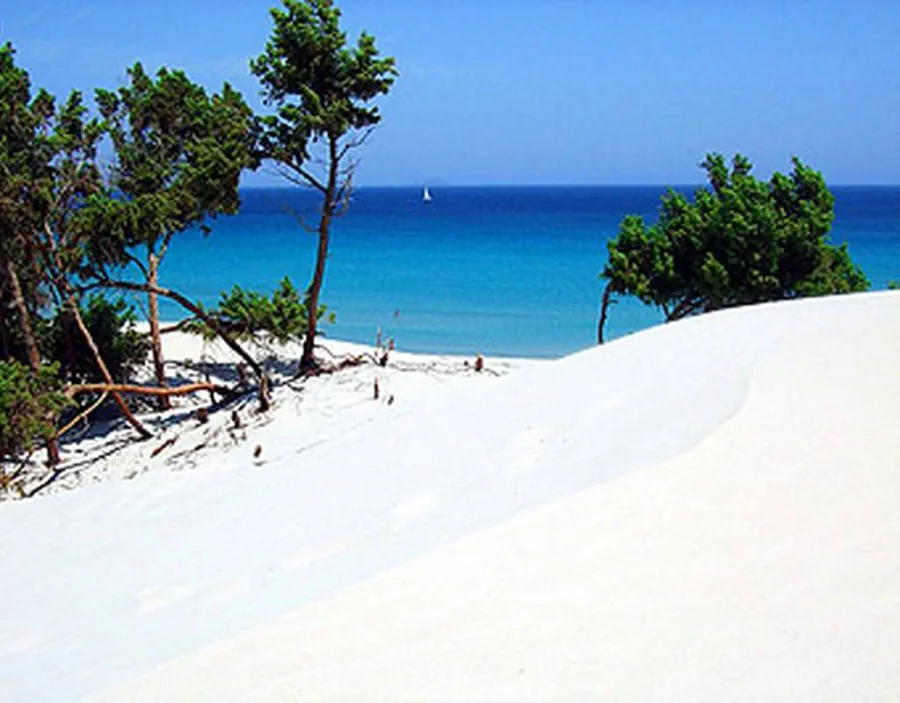 The Local Perspective: Sardinians and Nudist Beaches
While Sardinians are traditionally known for their modesty, the growing acceptance of naturism on the island's beaches paints a different picture. Some locals are drawn to the nudist beaches due to their relative tranquillity compared to the more touristy areas. Others have embraced the naturist lifestyle as a part of their summer rituals. It's fascinating to see how the norms are gradually shifting, and this evolving societal perspective is part of what makes the nudist beaches in Sardinia such interesting destinations.
Naturism as a Catalyst for Sustainable Tourism
It's worth noting that the growth of naturism in Sardinia is more than just a cultural shift; it has positive implications for sustainable tourism as well. Nudist beaches are often cleaner and quieter, with a community of visitors that tend to respect the environment. This, in turn, helps in preserving the natural beauty of these beaches, ensuring they remain unspoiled for future generations.
A Celebration of Freedom
In essence, the nudist beaches of Sardinia are a celebration of freedom, an opportunity to embrace one's natural state in an environment that encourages acceptance and authenticity. Whether you're a seasoned naturist or a curious traveler seeking a unique experience, these beaches offer a liberating escape from the constraints of everyday life.
The growth of the nudist beach culture in Sardinia has added a new dimension to the island's allure. And as this trend continues to flourish, Sardinia is poised to remain a must-visit destination for naturists from around the globe, all drawn to its beautiful beaches, open-minded culture, and the unique sense of freedom that naturism offers.
With the warm Mediterranean sun above and the feel of the golden sands beneath, the nudist beaches in Sardinia offer an experience that is as liberating as it is unforgettable. Here, the natural beauty of the island intertwines with a liberating culture, creating a potent blend that keeps visitors returning year after year.
Other Enchanting Naturist Spots in Sardinia
While Porto Ferro holds the distinction of being the first official nude beach in Sardinia, other enchanting spots in the region have captured the hearts of naturists. Here are some of the favorites:
Liscia Ruja – Arzachena (North East Sardinia)
Lu Littaroni – Aglientu (North East Sardinia)
Ezzi Mannu – between Stintino e Sassari (North West Sardinia)
Seu Natural Park – Cabras (Central West Sardinia)
Is Benas – San Vero Milis (Central West Sardinia)
South of Piscinas – Arbus (South West Sardinia) – Now officially the biggest naturist beach in Europe!
Porto Pino – between Teulada e Sant'Anna Arresi (South West Sardinia)
Capo Ferrato – Muravera (South East Sardinia)
Nudist Beaches in Sardinia: Your Naturist Adventure Guide
Exploring Sardinia's nudist beaches is a voyage of discovery that often leads to unexpected gems. To get you started on your naturist adventure, here is a curated list of the best nudist beaches on the island, each with directions from the nearest airport.
1. Porto Ferro – Alghero
From Alghero Fertilia Airport (AHO), take SP42 to Sassari. Continue onto SS291dir/SS291var and follow signs for Sassari/Porto Torres. Take the exit toward Santa Maria La Palma/Porto Ferro from SS291var. Continue on SP55. Drive to SP55dir in Santa Maria La Palma.
2. Spiaggia di Piscinas – Arbus
From Cagliari Elmas Airport (CAG), follow SS130 and SS131dir to Guspini. Take the exit toward Guspini/Gonnosfanadiga from SS131dir. Follow SP126 to Arbus. From Arbus, follow the signs for Piscinas and Marina di Arbus.
4. Mari Pintau – Quartu Sant'Elena
From Cagliari Elmas Airport (CAG), take SS391 towards Quartu Sant'Elena. Continue on the SS554 up to the junction with the SP17 (in the Settimo San Pietro area). Continue on the SP17 towards the sea until you reach Mari Pintau Beach.
Remember, these directions can change due to road works or other unpredictable factors, so it's always a good idea to have a reliable GPS system or an updated map. Additionally, consider exploring further as the island is full of secluded spots where naturism is practiced. Happy travels!